Archive for February, 2009
Book

Author: Cornelia Funke
©2003
Movie
Director: Iain Softley
Screenplay: David Lindsay-Abaire
Starring: Brendan Frazier, Eliza Bennett
I loved the premise of Inkheart from the moment I first saw the previews and the idea of bringing to life the characters who inhabit the pages of our favorite stories. The pages of Funke's book didn't disappoint either-it's filled with quips, quotes and anecdotes that any book lover can relate to. And Softley's film version is true to the book inspiring even the most reluctant reader to explore the world of words.
In the "real" world, there are people with special powers, known as readers, who can read characters and other elements of the story out of the book and into the real world.  Luckily, what those readers bring out of the storybooks brings excitement and danger to the story: Capricorn, the enemy of all, and his henchmen, led by Basta, and Dustfinger – who is just confused and wants to go home.
Book
Author: J.R. Tolkien
Published: 1954
Movie:
Director: Peter Jackson
Screenplay: Fran Walsh
Starring: Elijah Wood, Viggo Mortensen, Ian McKellan, Orlando Bloom
Release: 2001Rating: PG-13
It was only a matter of time before someone made a film of The Fellowship of the Ring, J.R. Tolkien's first book of the The Lord of the Rings trilogy. The story is a masterpiece. The characters each have their own plight and rite of passage. The conflict and journey are epic. But it's a slippery slope to try and adapt a timeless story such as this for the big screen. To quote a character from the story, "Stray but a little and you will fail." Fortunately, Tolkien proves to be a wonderful guide in his wizardry and craft, and paved a clear path for director Peter Jackson and screen writer Fran Walsh. All they had to do was follow the map. (more…)
Book: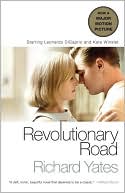 Author: Richard Yates
©1961, Vantage Books.
Movie:
Director: Sam Mendes
Screenplay: Justin Haythe
Starring: Leonardo DiCaprio, Kate Winslet
Release: 01/23/2009
Rating: R
If you're going to see Revolutionary Road because you're anxiously anticipating the conclusion of the love story between Leo and Kate that started in Titanic, well, you'd best stay home. Revolutionary Road isn't a love story; it's a story of how you lose yourself when you're wrong about love.
It's the story of a suburban couple in 1950. April and Frank Wheeler's lives are not so different from their neighbors, when you look through their plate glass windows. But once you go inside the cover, inside the front door, you discover a dark world.