Archive for February 5th, 2009
Book: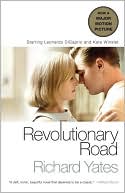 Author: Richard Yates
©1961, Vantage Books.
Movie:
Director: Sam Mendes
Screenplay: Justin Haythe
Starring: Leonardo DiCaprio, Kate Winslet
Release: 01/23/2009
Rating: R
If you're going to see Revolutionary Road because you're anxiously anticipating the conclusion of the love story between Leo and Kate that started in Titanic, well, you'd best stay home. Revolutionary Road isn't a love story; it's a story of how you lose yourself when you're wrong about love.
It's the story of a suburban couple in 1950. April and Frank Wheeler's lives are not so different from their neighbors, when you look through their plate glass windows. But once you go inside the cover, inside the front door, you discover a dark world.