Drama
Book
Author: J.R. Tolkien
Published: 1954
Movie:
Director: Peter Jackson
Screenplay: Fran Walsh
Starring: Elijah Wood, Viggo Mortensen, Ian McKellan, Orlando Bloom
Release: 2001Rating: PG-13
It was only a matter of time before someone made a film of The Fellowship of the Ring, J.R. Tolkien's first book of the The Lord of the Rings trilogy. The story is a masterpiece. The characters each have their own plight and rite of passage. The conflict and journey are epic. But it's a slippery slope to try and adapt a timeless story such as this for the big screen. To quote a character from the story, "Stray but a little and you will fail." Fortunately, Tolkien proves to be a wonderful guide in his wizardry and craft, and paved a clear path for director Peter Jackson and screen writer Fran Walsh. All they had to do was follow the map. (more…)
Book: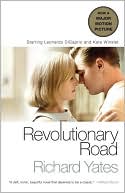 Author: Richard Yates
©1961, Vantage Books.
Movie:
Director: Sam Mendes
Screenplay: Justin Haythe
Starring: Leonardo DiCaprio, Kate Winslet
Release: 01/23/2009
Rating: R
If you're going to see Revolutionary Road because you're anxiously anticipating the conclusion of the love story between Leo and Kate that started in Titanic, well, you'd best stay home. Revolutionary Road isn't a love story; it's a story of how you lose yourself when you're wrong about love.
It's the story of a suburban couple in 1950. April and Frank Wheeler's lives are not so different from their neighbors, when you look through their plate glass windows. But once you go inside the cover, inside the front door, you discover a dark world.
Book:

Author: F. Scott Fitzgerald
©1922, P.F. Collier & Sons Co.
Short Story
Movie:
Director: David Fincher
Screenplay: Eric Roth
Starring: Brad Pitt, Kate Blanchett
Release: 12/25/2008
Rating: PG-13
If someone had told you about an amazing autobiography he read about a man-child who was born old and died an infant, then the next day another person were to recount a wonderfully strange documentary film about an un-aging man named Benjamin Button, you would be hearing two starkly different tales. These men share a name, yes, but with different families, upbringings, home towns, personalities, adventures, romances, and growing up in different time periods, it's hard to say that there is only one curious case of a Button. (more…)
Novel
Author: Gabriel Garcia Marquez
Published: Vintage Books, © 1998
Movie:
Director: Mike Newell
Starring: Benjamin Bratt, Giovanna Mezzogiorno, Javier Bardem
Release: November 2007
I expected Love in the Time of Cholera to be a beautiful love story – perhaps one that would join the line of Gone with the Wind. In some ways, it is like Gone with the Wind, in the sense that the traditional love story is reinvented in a completely new way. In just the back panel of the book, you discover that while Florentino loves Florentina for over 50 years, that doesn't slow his prowess – he has 622 affairs during that time. Now, how would one portray that on-screen without it quickly becoming an x-rated film?
Love
Oh, how many of us have felt the infatuation of young love – the kind that songs are written about. One song in particular comes to mind for young Florentino (Javier Bardem) and Fermina (Giovanna Mezzogiorno).
"… 'Cause when you're fifteen and someone tells you they love you,
You're gonna believe it…"  – Taylor Swift, Fifteen
Such is love for young Florentino and Fermina. Their early relationship is developed through a series of letters (enhanced, on-screen by stolen glances in church and at carnival).  He loves her from the moment he sees her, and doesn't hesitate to tell her in every possible way. When her father, perfectly portrayed by John Leguizamo, discovers that she's agreed to marry Florentino, he wisks her away to the countryside.
Love is different when you're 18, especially in a time when an 18 year old woman is the head of the household. When Fermina sees Florentino again in the market after a 2-year hiatus, she instantly realizes that Florentino is not the man that she had imagined. She immediately breaks off their engagement. Florentino falls into most unmasculine displays despair, and Fermina moves on. She eventually agrees to marry Dr. Juvenal Urbino, and Florentino starts his 622 affairs.
Overwhelming Description
Marquez relied very little in dialogue through the book – rather telling the story through the thoughts and statements of fact. I admittedly was worried about how the movie would turn out, as so much of a film is typically told through character dialogue. Newell's team did an outstanding job of using the description and thoughts to build missing dialogue, and use the background that was needed to build the story.
Newell also left out elements that were less important to the story – such as the way that Urbino liked the smell of his pee after eating asparagus, or that Florentino needed frequent enemas. While these elements of the novel were… interesting… they rarely added to the depth of the story, and were fine deletions from the screenplay.
The Naughty Bits
Since Newell left out the smell of asparagus pee, he needed to spice up the storyline somehow – so he enhanced the stories of Florentino's 622 affairs. The depictions were much more graphic, bordering on x-rated, as Florentino explored physical love with a wide variety of women, in a wide variety of places and positions. He detailed them all in a journal, which was notably absent from the novel. In fact, the only reference that I can recall to the exact number of affairs he had was from the back panel of the book.
Florentino's tastes were varied. At times, it seemed like he would sleep with any woman who presented the opportunity. He often slept with widows, as they seem to be the most free with their lives. He doesn't limit his affairs there – he also has an affair with a married woman, leading to her untimely death at the hands of her jealous husband.
As an old man, he also sleeps with much younger women – in particular his young charge America. In the movie, she's in college, studying to be a teacher; but in the novel, she seems much younger. Enough younger, in fact, that their affair seems to have a very Lolita quality. No matter – the age difference of 50+ years could definitely be considered a 'naughty bit'.
Worth it?
Without ruining the end (which you know from the beginning), I've been asking myself the question about whether the book or the movie were worth the time I invested in the reading and watching. To be sure, there are parts of the story that I will likely never forget (Florentino's lover who used baby pacifiers as part of the sexual act), there are more parts that I'll never remember from both the book and the movie. I've still not made up my mind, so you'll have to decide for yourself.