Posts Tagged 'Drama'
Book | Author: Dan Brown | Published: 2000
Movie:
Director: Ron Howard | Released: March 2009
Starring: Tom Hanks, Ewan McGregor, Ayelet Zurer, Skellan Starsgard
Yin and Yang. Jennifer Aniston and Angelina Jolie. Books and movies. Angels and demons. All of these duos are opposing forces, yet they intermingle in an unending cosmic balance of good and evil. Books are often heralded as the better over a screen adaptation in terms of storytelling. But, movies more often rake in the bigger bucks and popularize the title.  Dan Brown's thriller prequel to Da Vinci Code, Angels & Demons resurrects the ancient rivalry between science and religion. And since Ron Howard has taken both of Brown's bestselling novels and turned them into big production movies, perhaps Howard and Brown are now interlocked as opposites thriving for dominion over the same title. Preferably the movie would coincide with the novel in a tidy screen adaptation, but we all know that never happens. So, what demons does Howard have floating about this time?
Book
Author: J.R. Tolkien
Published: 1954
Movie:
Director: Peter Jackson
Screenplay: Fran Walsh
Starring: Elijah Wood, Viggo Mortensen, Ian McKellan, Orlando Bloom
Release: 2001Rating: PG-13
It was only a matter of time before someone made a film of The Fellowship of the Ring, J.R. Tolkien's first book of the The Lord of the Rings trilogy. The story is a masterpiece. The characters each have their own plight and rite of passage. The conflict and journey are epic. But it's a slippery slope to try and adapt a timeless story such as this for the big screen. To quote a character from the story, "Stray but a little and you will fail." Fortunately, Tolkien proves to be a wonderful guide in his wizardry and craft, and paved a clear path for director Peter Jackson and screen writer Fran Walsh. All they had to do was follow the map. (more…)
Book: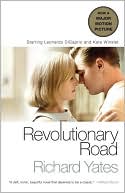 Author: Richard Yates
©1961, Vantage Books.
Movie:
Director: Sam Mendes
Screenplay: Justin Haythe
Starring: Leonardo DiCaprio, Kate Winslet
Release: 01/23/2009
Rating: R
If you're going to see Revolutionary Road because you're anxiously anticipating the conclusion of the love story between Leo and Kate that started in Titanic, well, you'd best stay home. Revolutionary Road isn't a love story; it's a story of how you lose yourself when you're wrong about love.
It's the story of a suburban couple in 1950. April and Frank Wheeler's lives are not so different from their neighbors, when you look through their plate glass windows. But once you go inside the cover, inside the front door, you discover a dark world.
Book:

Author: F. Scott Fitzgerald
©1922, P.F. Collier & Sons Co.
Short Story
Movie:
Director: David Fincher
Screenplay: Eric Roth
Starring: Brad Pitt, Kate Blanchett
Release: 12/25/2008
Rating: PG-13
If someone had told you about an amazing autobiography he read about a man-child who was born old and died an infant, then the next day another person were to recount a wonderfully strange documentary film about an un-aging man named Benjamin Button, you would be hearing two starkly different tales. These men share a name, yes, but with different families, upbringings, home towns, personalities, adventures, romances, and growing up in different time periods, it's hard to say that there is only one curious case of a Button. (more…)